A Showcase for MANAUEL MANZANEQUE
Finca Elez Appellation Monopole
Denominacion de Origen
FINCA ELEZ
Onflo Wines & Spirits Limited was established in 1995 in Hong Kong. We are the sole distributor of MANUEL MANZANEQUE D.O. PAGO wines in Hong Kong, Macau and the Mainland. Finca Élez, the estate where Manuel Manzaneque produces their wines, has been awarded as the first exclusive denomination of origin for a single vineyard – the highest quality classification level in Spain.
With its headquarter in Hong Kong, Onflo has gained good experience and built up sound foundation from our business in Mainland China for many years. Of special note is the establishment of a showroom for Manuel Manzaneque wines on July 3, 2010. Opening ceremony of Zhong Shan Alto Gate Trading Co., Ltd., was held at the self-owned premises, No.1 Fu Wan East Road, Shop No.4, East District, Zhong Shan City, Guang Dong Province, China. It was officiated by leaders from Guang Dong Overseas Chinese Bureau and Zhong Shan City together with Mr. Manuel Manzaneque and Mr. Nelson Chow, Chairman of Hong Kong Sommelier Association. Though a new venture, it is still founded on the same basic Onflo Principles – detailed product knowledge, excellent customer relations and quality service to both supplier and end-user. We are proud to introduce a good value-for-the-money boutique wine from Spain and spreading the healthy drinking way through Hong Kong to China.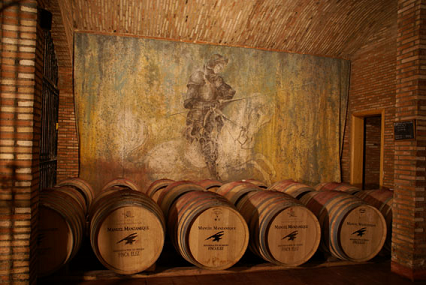 ……………………………………………………………………………………………………………………………………………..
A unique location
At 1,080 meters above sea level (the highest vineyard in Europe), in a microclimate singled out by steep temperature gradients between night and day, on this unique territories with clay, lime, poor, stony and good-drained soils that allow quality traditional grape growing, provides an excellent grape and oenology that is most respectful with the raw materials. Given this excellent vineyard of Élez property, the Manzaneque family devote themselves in making unique, elegant, balanced and fresh Estate Wines in line with their family artistic tradition.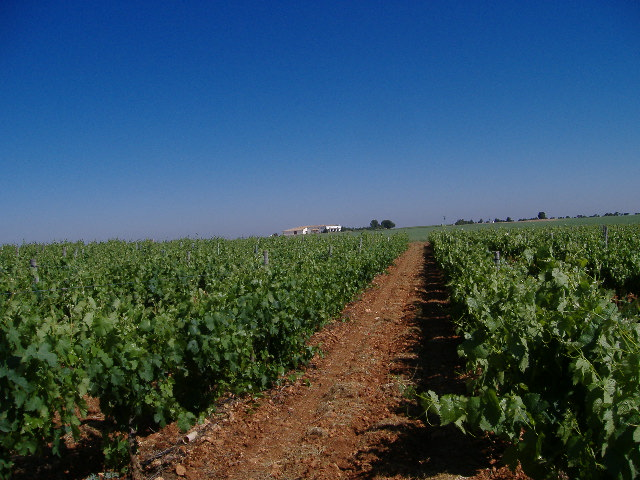 …………………………………………………………………………………………………………………………………………………………………………………………………….
Manuel Manzaneque, actor director and the theatre producer, has already received, among other awards, The Cinematographical Interpretation Award, and the National Theatre Award. Some years ago he decided to return to his roots, where he discovered the art encapsulated within the word of wines. With his mind set on creating an exclusive wine of the very highest quality, he established his own winery in the Sierra de Alcaraz , a place far aside from the traditional Spanish winemaking trails where he creates, with his sons Sofia and Manuel, soulful wines.
International medals to Manuel Manzaneque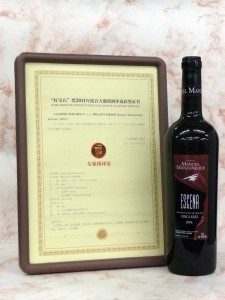 2011 December, Beijing a wine contest called Rubis Award Top 100 wines in China Evaluation of 2011,MANUEL MANZANEQUE ESCENA has been awarded with the bronze MEDAL . The wine contest organized by the specialised magazine "Wine in China".
…………………………………………………………………………………………………………………………………
In HOFEX 2011, the Manuel Manzaneque wins 4 medals at The Hong Kong International Wine Challenge 2011.
MANUEL MANZANEQUE ESCENA 2004 has been awarded with the GOLD MEDAL.
MANUEL MANZANEQUE Chardonnoy Especial 2007 has been awarded with the SILVER MEDAL .
MANUEL MANZANEQUE Nuestro Syrah 2006 has been awarded with the SILVER MEDAL.
MANUEL MANZANEQUE Nuestro seleccion 2004 has been awarded with the BRONZE MEDAL.
In the 2010 edition of Wine Style Asia Award, was held in conjunction with Wine For Asia 2010, celebrated at the begining of October an international challenge with top quality wines for the Asian palate and asian market. It recognised both quality and diversity in the wines selected for this award. MANUEL MANZANEQUE NUESTRA SELECCIÓN has been awarded with the SILVER MEDAL in the 2010 edition of Wine Style Asia Award.
2009 Manuel Manzaneque wins 2 medals at the Best Spanish Wine Challenge of Asia. The wines ESCENA 2004 and CHARDONNAY 2007 from "Manuel Manzaneque" have been awarded with the silver and bronze medals respectively, on the first edition of the best Spanish wines in Asia. Best Spanish Wine Challenge, organized by "Sommeliers International" and "Hong Kong Sommelier Association", was celebrated past 25th – 26th October at Hong Kong. More than 360 wines were tasted by sommeliers, journalists, wine importers and distributors.
……………………………………………………………………………………………………………………………………….
Manuel Manzaneque wines :
MANUEl MANZANEQUE ESCENA 2004

D.O. FINCA ELEZ
VARIETIES: Tempranillo 90 % Cabernet Sauvignon 10 %
TASTING NOTES: Intense cherry colour,dark and blue rim, clean and bright. On the noise, very deep and intense mineral and special terroir. This wine emphasizes in red fruit( cherries, strawberries, blackberries and black currant), violets perfectly blended with new oak coast notes. Balsamic, chocolate, coffee and tobaco notes as well. On the mouth is fleshy, concentrated and well-balanced with nice sweet tannins and an specially lingering final.
This is our premium wine, with a particular personality from our poor and cool soils at 1080 metres above sea level. We make this wine with our oldest tempranillo and a little proportion of Cabernet Sauvignon.It's a long aging wine and recommended decant it at least one hour before.
…………………………………………………………………………………………………………………………………………..
MANUEL MANZANEQUE CHARDONNAY ESPECIAL 2007

D.O. FINCA ELEZ
VARIETIES: Chardonnay 100%
TASTING NOTES: We make this wine, only in greats vintage years, with a complete selection of the best vineyards and the best bunchs, so that we have only 2000 exclusives andnumbered bottles. Special Chardonnay will be a great for laying down wine that it will surprise you now and after timewith a complex and unbelievable life.Fermented and matured in the best French oak barrels during one year,it is a tribute to a long history of high quality white wines for aging, elaborated by this house.
……………………………………………………………………………………………………………………………………………
MANUEL MANZANEQUE SYRAH 2006

D.O. FINCA ELEZ
VARIETIES: Syrah 100%
TASTING NOTES : Bright and intensive colour, ruby red with purple border. It has intensive, sweetooth and attractive aroma, marked by red fresh fruit (casis, blackberry and raspberry) and minerals and spice touches (pepper and rosemary), also liquorice, cacao and vanilla notes. It is fleshy and round at the palate with an aftertaste long and marked by complexity and very well fruit-wood balance. It has a strong mineral character. It is elegant, intensive and pleasant in the after nose. This wine is very concentrate thanks to the important temperature difference between day and night in the maturation period that our 1080 m high gives, and to the vintage quality.
…………………………………………………………………………………………………………………………………………..
MANUEL MANZANEQUE NUESTRA SELECCIÓN 2004
D.O. FINCA ELEZ
VARIETIES: Cabernet Sauvignon 50 % Tempranillo 40 % Merlot 10 %
TASTY NOTES: It looks clean and bright. Cherry red color with violet edge. Clean and honest to the nose. Sweetooth, with red fruit dominant as raspberry and strawberry, clear minerals and flowers touch over a toast and spice bottom followed by coffee and cacao aromas. Pleasant, it is very well structured in the mouth, potent and fleshy with sweet tannins, well matured. Very well alcohol–acidity balance. Its freshest stands out. Good glycerine, and in the mouth you can find some of the aromas you find in the nose, redcurrants, lactic notes very well balance with the barrel balsamic; spice notes, toast, cacao and liquorice. Elegant and complex wine with a marked Finca Elez personality, with its pour soils at 1100 meter high.
……………………………………………………………………………………………………………………………………….
MANUEL MANZANEQUE FINCA ELEZ 2005

D.O. FINCA ELEZ
VARIETIES: Cabernet Sauvignon 80 % Merlot 10 % Tempranillo 10 %
TASTING NOTES: Ruby maroon red color, intense, clean and bright. Its freshness and red fruits stand out in the nose (cassis, strawberry and blackberry), with balsam from the wood. Mineral and spicy light touch. It is fleshy, pleasant and oily to the palate, with good structure, well fruit-wood balance. It is large and round at the same time, very much elegant
………………………………………………………………………………………………………………………………………….
MANUEL MANZANEQUE CHARDONNAY 2007

D.O. FINCA ELEZ
VARIETIES: Chardonnay, harvest during the night
TASTING NOTES: Very intensive aroma, where predominate the primary ones. Especially green apple and floral aromas. Citrus fruits notes (grapefruit, lemon and tangerine) follow of tropical fruit that predominate. Both very well balanced with the barrel toasts that gives vanilla, balsamic aromas and spicy (rosemary, thyme and fennel).
The taste is fresh, pleasant and fleshy emphasizing the tropical fruit and the toasty flavours; sponge cake, bread roll, vanilla and butter. Very oily thanks to our work with the thin lees. It is very well balanced, fruit–wood and acidity–alcohol. Long and very pleasant aftertaste.