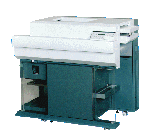 Anson High Reliability, Heavy-Duty,
Huge Performance
Multifunctional LED Page Printer
REMARKABLE COST PERFORMANCE(2100 LPM/25 PPM)
TG-2100 combines the largest technology in electro photographic, advanced chemical study and engineering. It prints at 2100 lines per minutes (1/8 inch per line) high speed with continuous form and 25 pages per minutes with A4 landscape cut-sheet pages. The price of printer and supplies are remarkable low in comparing with other old-fashioned design.
HIGH PRINTING QUALITY (400 DPI)
Fixative printing quality with high resolution comes out by using of advanced 400 DPI (Dot Per inch) LED (Light Emitting Diode) print head. TG-2100 can be used in wide-ranged application such as EDP (Electric Data Processing) output, graphic, image and barcode output, etc.
CHOICE OF INTERFACE ADAPTS TO VARIOUS COMPUTER SYSTEM
TG-2100 is able to connect with various hardware, software, interface and applications without modifications by customer. It comes standard with dual interface of Centronics parallel and RS232C serial, connects with system from DEC, HP, PRIME, UNSYS, TANDEM, CDC, AT & T, DATAPOINT,NCR,etc.
VARIOUS PAPER HANDLING (CONTINUOUS FORM/CUT SHEETS)
Either fanfold paper (continuous forms) or cut-sheet paper can be used. The maximum width of fanfold paper can be used is 16 inches (for both TG-2100 and TG-3200), and various cut-sheet paper sizes up to A3 are applicable (in TG-2100 only).
FLEXIBILITY FOR PAPER TYPES
Thick types of paper like 55 kg to 230 kg per roll can be used on TG-2100. No carbonized paper (NCR), synthetic paper (film) and label paper such as normal label, film label, compound label, or mail label can also be printed.
CHINESE CHARACTER CAPABILITY
Support complex or simplified character font and various Chinese code system including GB and BIG-5. TG-2100 prints Chinese and English characters in the same maximum speed!
HEAVY DUTY
Designed to duty cycle up to 200,000 pages per month and mechanical life over 5 years or 12 million pages, TG-2100 fulfills the heavy-duty requirement which large printing volume users look for.