Chilean Wines
Portal Del Alto
New Series
Vineyard :
The Portal del Alto vineyard is located in Alto Jahuel,Buin,35 Km south of Santiago was planted with varieties stemming from the original French stock introduced by the noted scholar Mr.Claudio Gay in the Quinta Normal de Agricultura in the 1850's. The only variety is Cabernet Sauvignon planted in north to south rows. It products high quality grapes,so harvest is limited to 12 Tons/Ha.
Cabernet Sauvignon Reserva
ALEJANDRO HERNANDEZ Premium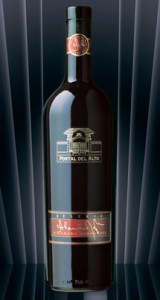 Grapes were harvested and handpicked the second week of April, once the desired balance between sugars and acids was achieved, and the ripeness of the tannins peaked in the vine. The selected vineyard is one of the lowest yielding cuarteles in the Portal del Pirque vineyard. After being transported in small trays to protect fruit integrity fermentation took place for 10 days keeping temperatures between 29C and 31C, with post-fermentation maceration of 20 days. 85% of this wine was aged 14 months in French and American oak. The remainder 15% was kept in stainless steel tanks to preserve fruity aromas. This wine was neither treated, nor filtered to preserve aromas and body.
TASTING NOTES
Intense red ruby color. Elegant aromas, well developed and complex evoking red ripe fruits, black cherry jam, and cassis, along with delicate spiced aromas from the oak aging. It is a wine of body, abundant tannins, and fine persistence. It is well balanced, and its structure will keep it well when cellared up to 8 years. This wine is very concentrated, and it should be decanted because it will benefit from the oxygenation, after its long time in the bottle. Therefore the wine can present natural sediments from natural decantation.
……………………………………………………………………………………………………………………………………………